We all love animals, right? They are cute, cuddly, and sometimes downright hilarious. Animals make our lives more fun and colorful with their antics and personalities. They are our loyal companions and faithful friends. But sometimes, they can also be weird, wild, and wacky. Especially when interacting with humans unexpectedly, the situation can create bizarre animal human encounters like the ones on this list.
From friendly to freaky, romantic to ridiculous, sweet to scary, here are some of the most bizarre animal-human encounters worldwide. You won't believe what these people did with (or to) these creatures. 
Some of them will make you laugh out loud, some will make you gasp in shock, and some will make you question your sanity. But all of them will make you wonder: what were they thinking? How did they end up in such situations?
What did the animals feel about them? Read on to find out more about these unbelievable stories of bizarre animal human encounters. You might be surprised by what you discover. Or you might want to hug your pet and never let go. Because after reading this article, you will realize that animals are genuinely impressive and unpredictable beings. And sometimes, they can teach us a thing or two about love, life, and ourselves.
1. The man who was swallowed by a hippo
If you think being eaten by a shark is bad, imagine being gulped down by a hippo. That's what happened to Paul Templer, a former British soldier who became a river guide in Zimbabwe. Paul was leading a group of tourists on a canoe safari on the Zambezi River when he encountered a pod of angry hippos. One of them attacked his canoe and dragged him underwater, swallowing him headfirst up to his waist. Paul felt immense pressure on his back and realized he was inside the hippo's mouth. He tried to fight back by poking the hippo's eye, which made it spit him out. But the hippo was not done with him. It bit him again and again, leaving him with horrific injuries.
He lost his left arm and had chunks of flesh torn from his chest and leg. Paul barely survived and spent two weeks in a coma. He later said that the hippo attack was "the most terrifying experience of my life." He also said that he forgave the hippo and did not blame it for doing what hippos do. Paul went on to become a motivational speaker and author, sharing his story of survival and resilience. 
2. The woman who married a dolphin
Some people have a thing for dolphins. They find them cute, smart, and friendly. But Sharon Tendler took her dolphin crush to a whole new level. This second entry on bizarre animal human encounters features a dolphin named Cindy. Sharon was a British millionaire who fell head over heels for Cindy at an Israeli resort. Tendler visited him for 15 years and finally decided to marry him in 2005. She wore a white dress and kissed him on the nose as hundreds of spectators watched.
However, the marriage was not legally recognized, but Tendler said she was happy with her "partner." She even converted to Judaism for him since he was a Jewish dolphin 3. Sadly, their love story ended too soon. Cindy died a year later at the age of 40 (old for a dolphin). Tendler was heartbroken and vowed never to marry again. She said Cindy was the love of her life, and no one could replace him. 
3. The man who befriended a crocodile
Most people would run away from a crocodile, but not Chito Shedden. He was a fisherman in Costa Rica who found a wounded crocodile near his home. He nursed it back to health and named it Pocho. They became inseparable friends and performed shows for tourists, with Chito swimming and playing with the 5-meter-long reptile. He said Pocho was like his son and trusted him completely.
Chito saved Pocho's life after a farmer shot him in the head. He fed him chicken and fish, slept with him, and even kissed him on the snout. He also taught him to respond to his name and commands. Their friendship lasted for 22 years until they both perished within months of each other in 2011. Chito said he was heartbroken by Pocho's death but grateful for their amazing bond. He said Pocho taught him to love and respect animals.
4. The woman who breastfed a deer
Some people adore animals so much that they treat them like their own children. But one woman in India took this to a whole new level when she found a newborn deer near her farm and decided to adopt it as her own. She named it Pihu and nursed it with her breast milk for two months until it was potent enough to survive on its own. 
She said she felt a motherly bond with the deer and wanted to give it a chance to live. Pihu became a part of her family and even played with her children. The woman's husband was supportive of her decision and said he was proud of her compassion. The neighbors, however, were not so amused and called her crazy. But she didn't care what they thought. She just loved her deer baby. How fawn-d of her!
5. The man who lived with a bear
Are you feeling lonely? Do you need someone to snuggle with? Why not get yourself a freaking polar bear?  That's what this crazy dude Mark Dumas did, and he's living the dream. This one, among all the bizarre animal human encounters, is the most interesting. Mark shares his crib with a 7-foot-tall, 800-pound beast named Agee, who's chill AF. Agee likes to play, swim and cuddle with Mark like a giant fluffy doggo. She even follows him around and listens to his commands. 
But don't get it twisted; living with a bear ain't easy. Mark has to follow some strict rules, like not messing with her nap time, not touching her grub, and not freaking her out. Otherwise, she might go berserk and rip his face off. But Mark says it's totally worth it to have such a badass and loyal buddy. He even says that Agee saved his ass once by scaring off a cougar that was after him. How cool is that? 
Also Read: Hania Aamir Husband, Net Worth, Age, & Bio
6. The woman who gave birth to a horse
Some women have cravings for pickles and ice cream when they are pregnant, but Safiya Abubakar has a craving for hay and carrots. The Nigerian woman claimed she had been carrying a baby for two years, which is longer than an elephant's gestation period. Safiya finally decided to seek help from a church where a prophet prayed for her to deliver safely. But instead of hearing a cry or a coo, she heard a whinny and a snort. She had given birth to a horse-like creature with hooves, fur, and a tail.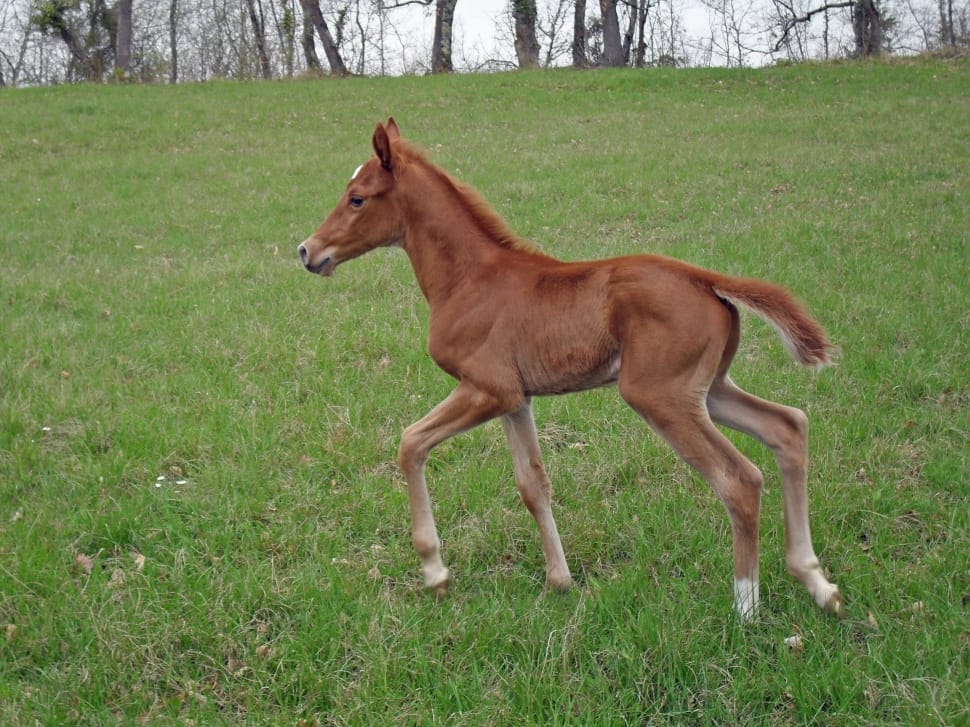 The creature looked like it belonged on a farm, not in a maternity ward. Unfortunately, the miracle mare did not live long, and doctors said it was because of anencephaly, a serious birth defect that primarily affects brain development. They said it was not really a horse but a deformed human fetus. Well, that's one way to put the cart before the horse!
7. The man who married a snake
Some men have a preference for blondes, some for brunettes, but Uthai Waenbarom has a preference for snakes. The Thai farmer was devastated when his girlfriend passed away, but he found comfort in a slithering cobra that he believed was her reincarnation. He brought the 3-meter-long reptile home and treated it like his wife. 
He snuggled with it, fed it, and even took it out for romantic trips, saying it was his soulmate. His neighbors did not think he was nuts but rather respected his dedication and hoped it would bring luck to the village. They said he was a fortunate man to have such a faithful and gorgeous wife. Well, you know, beauty is in the eyes of the beholder, and love knows no boundaries. Or species. Or scales.
8. The woman who had intercourse with a dolphin
The sound woman-dolphin love story on this bizarre animal human encounters list! Margaret Howe Lovatt was an American researcher who had a steamy affair with a dolphin in the 1960s. She was part of a NASA-funded project to communicate with dolphins, and she moved in with a male dolphin named Peter in a house filled with seawater. She tried to teach him English, but he was more interested in teaching her about his biology. He made sexual overtures to her, and she gave in to his desires, saying it was easier to gratify him than to ignore him.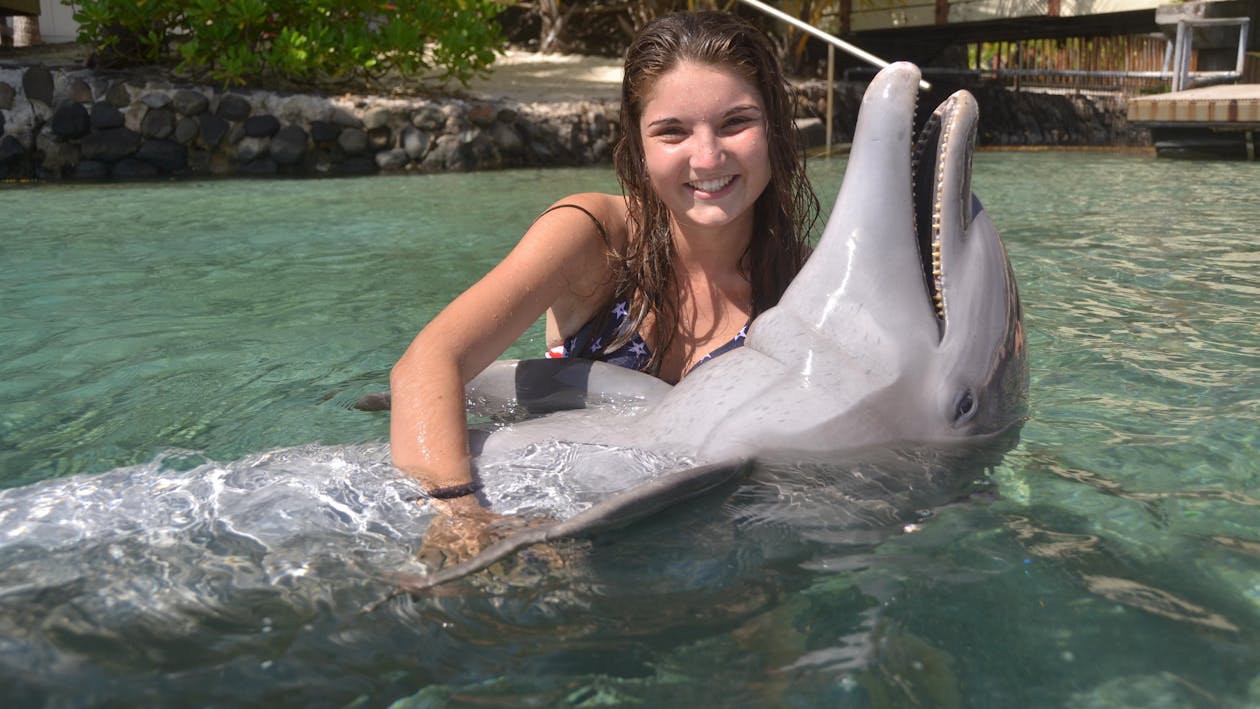 She claimed it was not sexual but rather sensual and gentle. She said he was very loving and tender with her. The experiment ended when Peter died of a broken heart after being separated from Lovatt. He could not cope with the loneliness and depression. He missed her too much. Well, that's what occurs when you play with dolphins. You get wet and wild. And sometimes, you get hurt.
9. The monkey who sued a man
David Slater was a British photographer who went to Indonesia to shoot some critters in 2011. He ditched his camera, and a macaque monkey named Naruto nicked it and took some selfies with it. He smirked with a cocky look and showed off his chompers. The photos blew up, and Slater wanted the dough, but he faced a lawsuit from an animal rights group that argued that Naruto was the legit creator of the images. 
They said he had a brain and a sense of humor, and he deserved to get his props. The case was settled in 2017, with Slater agreeing to donate part of his cash to charities that protect macaques. He said he wanted to quit the monkeying around and get on with his life. Well, that can happen when you start messing with cameras. You get sued by a monkey. And sometimes, you possibly have to cough up the bananas.
10. The woman who married a bridge
Australian artist Jodi Rose was looking for a strong, stable,, and supportive bae. Jodi found one in Le Pont du Diable (The Devil's Bridge), a 14th-century stone bridge in France. She married it in 2013, in front of 14 guests and the mayor of the town. Rose wore a custom-made wedding ring that fit around one of the bridge's arches. 
She said she felt connected to the bridge's history, resonance, and vibration. She also said the bridge made her feel alive and inspired. Well, good for her. She found her soulmate on a bridge. That's the goal, right? Some people might think she's cray-cray, but she doesn't care. She loves her bridge, and her bridge loves her back. They're living happily ever after. Or at least until the bridge collapses. Then it's RIP to their relationship.
Parting Words
Well, the world may be busy with the daily hustle-bustle, but there are incidents like these that seldom pull our attention towards it. These ten bizarre animal human encounters are proof that there are incredibly-terrible and unimaginable things happening all around the world. If you have any stories to share, the comment sections are open.